The Toad's henchrats are supporting (if minor) antagonists in the film Flushed Away
The rats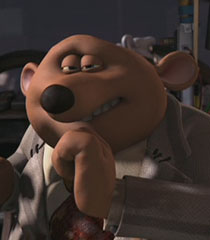 Fat Barry:
Fat Barry is the obese rat of the team while the other rats are fairly slim. Described in the commentary as always eating Fat Barry is probably the only minor one of the lot. He has very few lines and very little screen time. He wears a grey suit and black shoes and meets his fate after falling into the water.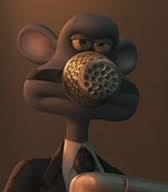 Thimblenose Ted:
Thimblenose Ted is the most slim of the team. He gets his name because of a thimble that he wears in place of a nose which was presumably lost during a knife fight as heard in the commentary. He wears a black suit with brown shoes but unlike the other rats who have brown fur he has blue fur. Unlike Fat Barry who has very few lines Ted has little lines.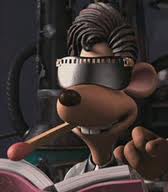 Ladykiller:
Ladykiller is the second slim of the team. Though not as slim as Thimblenose Ted he does have a slight muscualr tone. He is always shown with a matchstick in his mouth and always wearing glasses. He is the only rat on the team that has hair. Unlike the other rats who wear black or brown shoes Ladykiller wears red shoes and a light grey suit. He speaks with a thick accent possibly Italian or Puerto Rican. He meets his end after Rita freezes him with liquid nitrogen and he falls in the water with Fat Barry. The commentary also shows him to be a ladies man but either this is true or not is unknown.