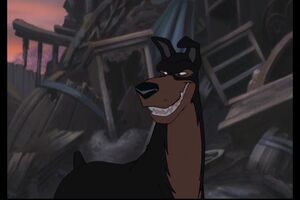 Buster is the main antagonist of Lady and the Tranp II:Scamp's Adventure. He is voiced by
Chazz Palminteri
with his singing voiced provided by
Jess Harnell
Personality
Buster and Tramp were originally friends but since Tramp ran off with Lady he has been misanthropic and had a hatred for families. He is also in love with Angel although she despises him.
Lady and the Tramp II
He is first seen throwing the Dogcatcher's hat where he welcomes Scamp as part of the Junkyard Dogs and sings a song called The Junkyard Society Rag singing about their surroundings. Whe  Tramp appears to lead Scamp away from Buster he fails and Buster is happy to see Tramp upset and declaresa Scamp a junkyard dog by removing his collar. Scamp is then captured by the dogcatcher and Buster reveals his true colours by deserting him. But Scamp escapes, gets his collar back and traps Buster under a pile of junk and to his dismay his minions turn on him.